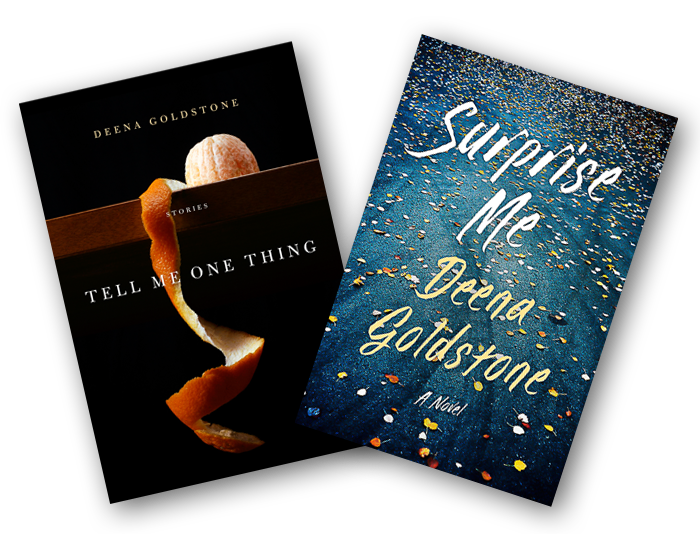 Each story is insightful, emotional and an honest portrait of lives that feel lived-in. . . . I oscillated between feelings of futility and excitement, absorbing the characters' anxieties, fears and desires for more."

— The Toronto Star
---
One of the Best Authors
5 out of 5 stars ✶✶✶✶✶
I read this book of short stories after reading Goldstone's Surprise Me. Her novel struck me as an amazing capture of human vulnerability and inner dialogue. The short stories did nothing but blow me away. As with her novel, Goldstone made me laugh and inevitably made me cry. The most beautiful tears. The way she describes human emotions is like reading a summary of ways I have felt but never knew how to express. Breathtaking, and I fully recommend all of her work (hopefully, there will be more!) to everyone I meet.
---
Astonishing
5 out of 5 stars ✶✶✶✶✶ Amazon Books
The collection is breathtaking. Poignant and beautifully written, a collection of short stories I'll revisit. Goldstone brings characters to life with a light hand, giving me just enough to form my own perspectives. Story lines that are familiar enough that I can see myself yet with the unexpected woven in. I'm constantly reading, it seems, and Tell Me One Thing is a new favorite. I gave a copy to a friend who loved it as well; my copy, I keep!
---
One Good Read
5 out of 5 stars ✶✶✶✶✶ Amazon Books
While reading the short stories in Deena Goldstone's Tell Me One Thing, I kept thinking of Maya Angelou's notion of people doing what they know and doing better when they know better. Each of the characters in Goldstone's eight stories are notable for their portrayal of human vulnerability as they struggle to do their best in maintaining a sense of stasis in handling the arbitrariness of daily life. They strive to do the best they can in within the lives they have been handed.
Through Goldstone's fluid prose we are able to empathize with the heartfelt pain, joy, and trepidation of change demanded by the dynamics of daily life. She gifts her characters with a strong sense of integrity as they negotiate the best way to cope with loss, dysfunction, death, anger, friendship and love.
---
Goodreads
Goldstone writes like Alice Munro. This is a wonderful collection of short stories. Several of them string together to form a longer story. I loved the collection. I've never been a fan of short stories but these I like, a lot! Goldstone has crafted beautifully rendered slices of life, capturing those defining life experiences that shape one's next chapters. So good I'm re-reading a second time.
---